LIMITED Edition Folder
Price Limited Edition Card:
£20.00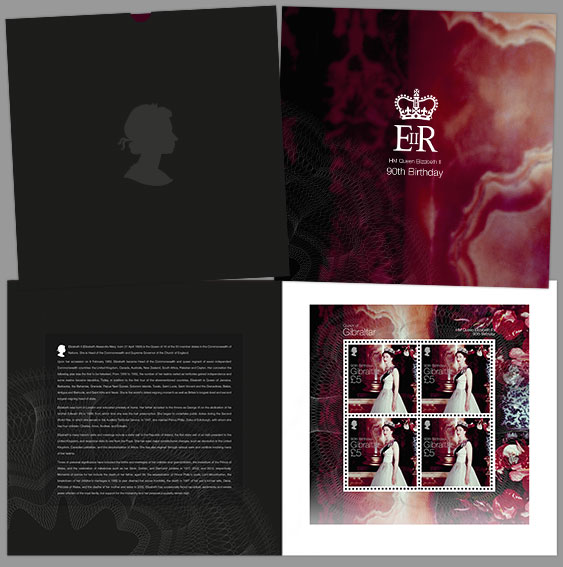 LIMITED EDITION (1,000 copies) commemorative special folder with an outer sleeve featuring an embossed silhouette and cypher on either side. It includes a sheetlet of 4 stamps which are individually numbered and are printed with 4 colours plus silver ink.
The Queen was born at 2:40am on 21 April 1926 at 17 Bruton Street in Mayfair, London. She was the first child of The Duke and Duchess of York, who later became King George VI and Queen Elizabeth.
The Queen celebrates two birthdays each year: her actual birthday on 21 April and her official birthday on a Saturday in June.
The Queen usually spends her actual birthday privately, but the occasion is marked publicly by gun salutes in central London at midday: a 41 gun salute in Hyde Park, a 21 gun salute in Windsor Great Park and a 62 gun salute at the Tower of London.
Her Majesty's 90th Birthday party has been described as 'a celebration of the Queen's life, her love of horses, her dedication to the Commonwealth and international affairs and her deep involvement with the Air Force, Army and Navy. Over 90 minutes, 900 horses and more than 1,500 participants from around the United Kingdom and the world will take us on a journey from the excitement of the birth, through to WWII, her marriage, the coronation and a reign of more than 60 years. The celebration will use horses, actors, bands and dancers to tell the story. The 90-minute experience will be a fusion of the latest video projection, LED effects and theatrical lighting. The finale being a kaleidoscope of memories and achievements.'
Technical Specs
| | |
| --- | --- |
| Design: | Stephen Perera |
| Illustration / Photography: | Getty Images & İVictoria & Albert Museum, London |
| Printer: | Lowe Martin |
| Process: | Offset Lithography |
| Colours: | 4 Colours |
| Stamp size: | 32 x 32mm / £5 stamp 40 x 40mm |
| Issue date: | 2016-02-19 |
| Stamp Values: | 12p, 18p, 22p, 40p, 50p, 64p, 70p, 80p, £1, £5 |
---