John Lennon
Buy whole issue for:
Ask for Availability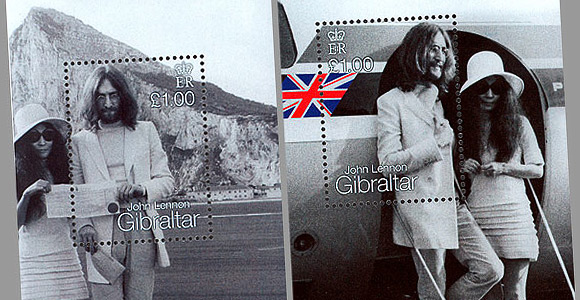 John Lennon married Yoko Ono in Gibraltar on the 20th March 1969 by special licence in a three minute ceremony on Friday 21st March 1969. It was John Lennon who commented on his marriage ceremony being so conventional. Who would have thought that one of the great icons of modern music would have had such a simple and 'British' affair? .
The stamps commemorate his life and the Miniature Sheet his marriage at the Registry Office in Gibraltar.
Yoko wore a short mini-skirt and sunglasses at their wedding. They honeymooned in Amsterdam. John and Yoko were separated for a year in 1974. They reconciled in 1975. Their marriage ended with his death on December 8, 1980.
Wedding Album is the final in a succession of three experimental albums by John Lennon and Yoko Ono. Released in 1969, it consisted of two tracks, one on each side of the record:
"John & Yoko", the first side, is a recording of Lennon and Ono calling to each other, through a range of emotions, over the sound of their heartbeats.
"Amsterdam", the second side, consists of interviews, conversations, and captured sounds during the couple's famous "Bed-In" honeymoon, after being married on 20 March of that year. Interestingly, a brief excerpt of the Beatles song, "Because" appears on this side.
The record came as an elaborate box set designed by John Kosh, including sets of photos, drawings by Lennon, a reproduction of the marriage certificate, a picture of a slice of wedding cake (inside a white sleeve), and a booklet of press clippings about the couple.
Technical Specs
| | |
| --- | --- |
| Design: | Stephen Perera |
| Illustration / Photography: | GPBL |
| Printer: | Cartor security printers |
| Process: | Offset Lithography |
| Colours: | Multicoloured |
| Stamp size: | Set: 40 x 30mm M/S: 62 x 100mm |
| Issue date: | 1999-03-20 |
| Stamp Values: | 20p, 30p, 40p. M/S: £1, £1 |
---