Joint Issue Gibraltar - San Marino
Buy whole issue for
£10.05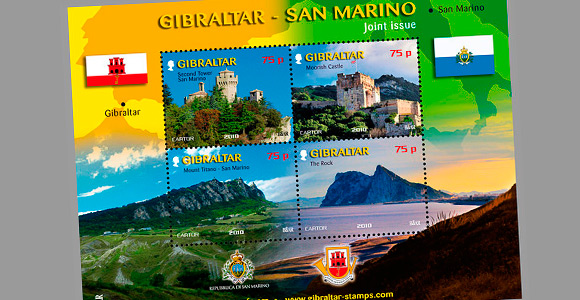 The Gibraltar Philatelic Bureau has been working closely with the San Marino Philatelic Bureau to produce a superb joint stamp issue featuring similarities between both Gibraltar and San Marino.
A joint issue is the release of stamps by two or more countries to commemorate the same topic, event or person of relevance to both countries. Joint stamp issues are highly regarded and should have the same day of issue. Their design is often similar or identical, except for the identification of country and value. Joint Stamp issues are a great example of cooperation between two countries as is the case between Gibraltar and San Marino.
The stamp sheets will be released jointly on the 30th June 2010 by both Philatelic Bureaus and feature photographs of the Rock (Gibraltar) and Mount Titano (San Marino) and also the Moorish Castle (Gibraltar) and the Second Tower (San Marino). Two different stamp sheets as featured on the attachment will be issued; one by Gibraltar and one by San Marino.
Technical Specs
| | |
| --- | --- |
| Design: | B & AR |
| Illustration / Photography: | Gib photography: Stephen Perera |
| Printer: | BDT International, Ireland |
| Process: | Offset Lithography |
| Colours: | 4 cols. |
| Stamp size: | 40x30mm |
| Issue date: | 2010-06-30 |
| Stamp Values: | 75p x 4 |
---