HM Queen Elizabeth II - In Memoriam
Price Pack Miniature Sheet:
£7.05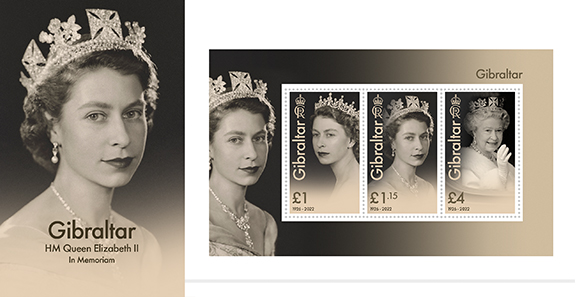 On 8 September 2022, Buckingham Palace released a statement which read:"Following further evaluation this morning, the Queen's doctors are concerned for Her Majesty's health and have recommended she remain under medical supervision.The Queen remains comfortable and at Balmoral." Elizabeth's immediate family rushed to Balmoral to be by her side. She died "peacefully" at 15:10 BST at the age of 96, with two of her children, Charles and Anne, by her side. Her death was announced to the public at 18:30, setting in motion Operation London Bridge and, because she died in Scotland, Operation Unicorn.
Elizabeth was the first monarch to die in Scotland since JamesV in 1542. Her death certificate recorded her cause of death as "old age".
On 12th September, Elizabeth's coffin was carried up the Royal Mile in a procession to St Giles' Cathedral, where the Crown of Scotland was placed on it. Her coffin lay at rest at the cathedral for 24 hours, guarded by the Royal Company of Archers, during which around 33,000 people filed past the coffin. It was taken by air to London on 13th September. On 14th September, her coffin was taken in a militar y procession from Buckingham Palace to Westminster Hall, where Elizabeth lay in state for four days.The coffin was guarded by members of both the Sovereign's Bodyguard and the Household Division.An estimated 250,000 members of the public filed past the coffin, as did politicians and other public figures. On 16th September, Elizabeth's children held a vigil around her coffin, and the next day her eight grandchildren did the same.
Elizabeth's state funeral was held at Westminster Abbey on 19th September, which marked the first time that a monarch's funeral service had been held at the Abbey since George II in 1760. More than a million people lined the streets of central London, and the day was declared a national day of mourning in several Commonwealth countries. In Windsor, a final procession involving 1,000 military personnel took place which was witnessed by 97,000 people. Elizabeth's fell pony, and two royal corgis, stood at the side of the procession. After a Committal Service at St George's Chapel, Windsor Castle, Elizabeth was interred with her husband Philip in the King George VI Memorial Chapel later the same day in a private ceremony attended by her closest family members.
Technical Specs
| | |
| --- | --- |
| Design: | Stephen Perera |
| Illustration / Photography: | Royal Collection Trust & Getty Images |
| Printer: | BPost Security Printing |
| Process: | Offset Lithography |
| Colours: | 4 Colours |
| Stamp size: | 30 x 50mm |
| Issue date: | 2023-02-20 |
| Stamp Values: | £1, £1.15, £4 |
---