Year of the Snake
Price Special Folder:
£19.95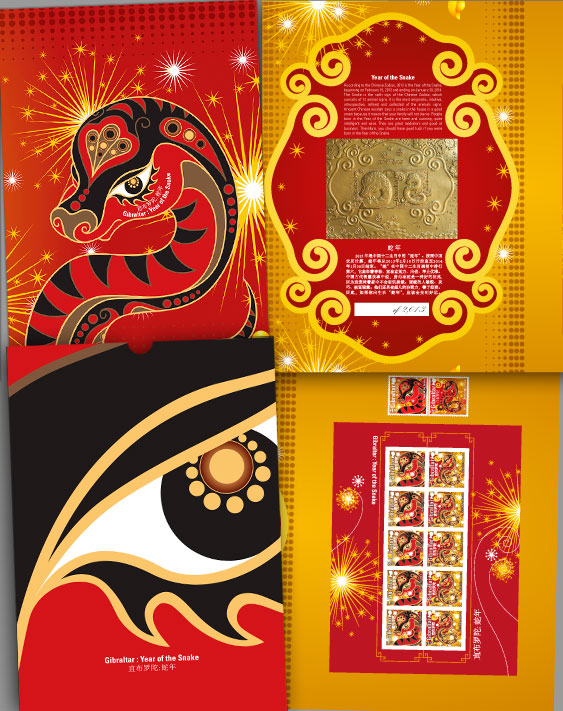 High Quality Ltd folder produced by cartor security printers
Limited to 2013 copies only
Folders are individually numbered
Folder contains, the se-tenant set, sheetlet and special Gold Foil Miniature Sheet
The Gold Foil miniature sheet is only available with the purchase of the folder (can not be bought separately)
According to the Chinese Zodiac, 2013 is the Year of the Snake, beginning on February 10, 2013 and ending on January 30, 2014. The Snake is the sixth sign of the Chinese Zodiac, which consists of 12 animal signs. It is the most enigmatic, intuitive, introspective, refined and collected of the animals signs. Ancient Chinese wisdom says a snake in the house is a good omen because it means that your family will not starve. People born in the Year of the Snake are keen and cunning, quite intelligent and wise. They are great mediators and good at business. Therefore, you should have good luck if you were born in the Year of the Snake.
Technical Specs
| | |
| --- | --- |
| Design: | Stephen Perera |
| Illustration / Photography: | bajena + siewhoong at istockphoto.com |
| Printer: | Cartor Security Printers |
| Process: | Offset Lithography |
| Colours: | 4-Col. + embossing + hotfoiling with simili gold |
| Stamp size: | 31.75 x 31.75mm |
| Issue date: | 2013-01-30 |
| Stamp Values: | 42p, £1 |
---