PRE-ORDER Leonardo Da Vinci
Price First Day Cover:
£8.72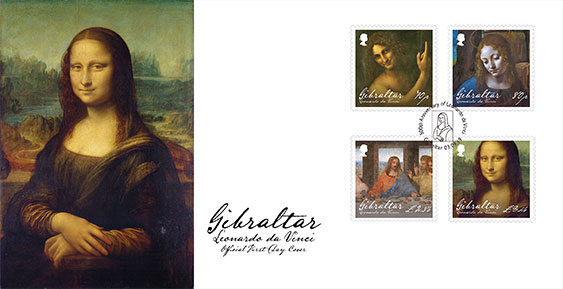 Leonardo Da Vinci 500th Ann stamps available for PRE ORDER. Orders shall be despatched on 3rd September 2019
Leonardo da Vinci was an Italian polymath of the Renaissance period. Many historians and scholars regard Leonardo as the prime exemplar of the Universal Genius. He is also widely considered as one of the most diversely talented individuals to have ever lived.
2019 sees the 500th anniversary of the death of Leonardo and we pay tribute to him with the issuing of a set of four stamps. The stamps have been designed by Gibraltarian graphics artist Mr Stephen Perera and depict the following masterpieces;
70p: St. John the Baptist, 1513-16

80p: Virgin of the Rocks, 1483-86
£2.86: The Last Supper, 1495-98

£3.46: Mona Lisa, 1503
Technical Specs
| | |
| --- | --- |
| Design: | stephen Perera |
| Illustration / Photography: | getty Images |
| Printer: | Cartor Security Printers |
| Process: | Offset Lithography |
| Colours: | 4 colours |
| Stamp size: | 32 x 32mm |
| Issue date: | 2019-09-03 |
| Stamp Values: | 70p, 80p, £2.86, £3.46 |
---