75th Anniversary of VE Day
Price FDC Miniature Sheet:
£4.90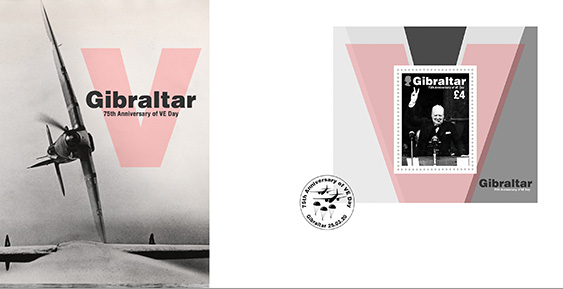 Victory in Europe Day, generally known as VE Day (United Kingdom) or V-E Day (North America), is a day celebrating the formal acceptance by the Allies of World War II of Nazi Germany's unconditional surrendor of its armed forces on 8 May 1945.
Adolf Hitler, the Nazi leader, had committed suicide on 30 April during the Battle of Berlin and Germanys surrender was authorised by his successor, Reichspräsident Karl Donitz.
The administration headed by Dönitz was known as the Flensburg Government.
The act of military surrender was first signed at 02:41 on 7 May in SHAEF HQ at Reims, and a slightly modified document was signed on 8 May in Berlin.
Most European countries celebrate the end of World War II on 8 May. Russia, Belarus, and Serbia celebrate on 9 May, as did several former Soviet bloc countries.
Israel also marks VE Day on 9 May, as a result of the large number of immigrants from the former Soviet bloc, although it is not a public holiday.
The term VE Day existed as early as September 1944, in anticipation of victory.
Technical Specs
| | |
| --- | --- |
| Design: | Stephen Perera |
| Illustration / Photography: | Getty Images |
| Printer: | Bpost Security printing |
| Process: | Offset Lithography |
| Colours: | 4 colours |
| Stamp size: | 40 x 30mm |
| Issue date: | 2020-03-25 |
| Stamp Values: | 64p, 70p, 80p, £2.86, £3.46 |
---