City Council Centenary 1921-2021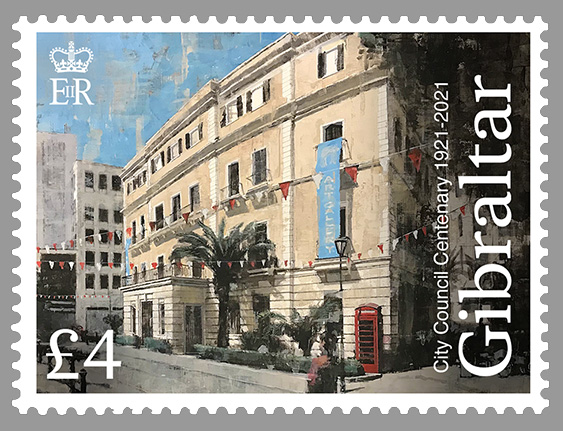 The City Hall, seat of the City Council (formed in 1921), was originally a private mansion built in 1815 by Aaron Cardozo, an influential Gibraltarian merchant. As a non-Protestant, Cardozo was not legally allowed to own property in Gibraltar but as a close friend of Lord Nelson who had supplied his fleet, Cardozo was eventually granted a site to build a house that was to be 'an ornament' to John Mackintosh Square at a cost of about £40,000. After Cardozo's death, the mansion was leased to John Ansaldo to become the Club House Hotel from 1839-1875. Ansaldo actively advertised the hotel by publishing the arrivals of anybody of any note who happened to be staying. Commercial travellers offered all sorts of expensive imports and well known Pall Mall tailors would stay at the hotel adding to its generally upmarket credentials. In 1868, the Gibraltar Jockey Club was founded on the premises. In 1874 the building was bought and extensively refurbished by Gibraltar-born Pablo Antonio Larios, a wealthy businessman and banker.
The family placed the mansion at the disposal of the Duke of Connaught, son of Queen Victoria, during his tour of Gibraltar in 1876 after which the family moved in. Unfortunately Pablo Antonio had little time left to enjoy his move. He died under tragic circumstances in 1879 when he was struck by a horse which was being exercised by a Sergeant Howell of the Royal Welsh Fusiliers. In 1920 it was subsequently sold to the Gibraltar Colonial Government to use as a parcel post office initially. In 1924 the building became the City Hall, the seat of the Gibraltar City Council. Important to the community, the Gibraltar telephone service was operated by the City Council as from1926. An automatic exchange serving the territory was installed in the last floor of the building. The building was later extended (including a new storey and a new body to the North) modifying its original symmetry. Council meetings were held from 1924 until 1969 when it merged with the Government. Today, the City Hall houses the offices of the Mayor of Gibraltar and the Gibraltar National Gallery.
Technical Specs
| | |
| --- | --- |
| Design: | Stephen Perera |
| Illustration / Photography: | Leslie Gaduzo Painting |
| Printer: | Bpost Security Printers |
| Process: | Offset Lithography |
| Colours: | 4 colours |
| Stamp size: | 40 x 30mm |
| Issue date: | 2021-11-11 |
| Stamp Values: | £4 |
---