Cruise Ships III (2007)
Buy whole issue for
£18.98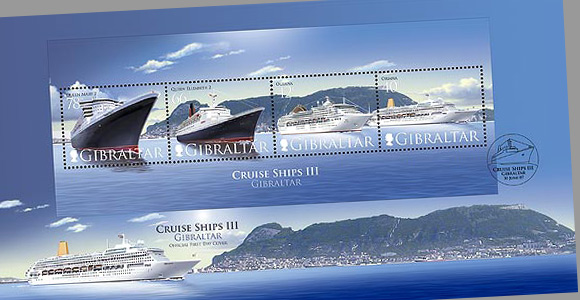 The final issue in our 'Cruise Ships' visiting the Rock features Cunard's Queen Mary 2 (148,528 gross tons); Queen Elizabeth 2 (70,327 gross tons); P&O's Oceana (77,000 gross tons) and the Oriana (69,153 gross tons).
Queen Mary 2 is the largest ocean liner ever built, her height, length and waterline breadth are unsurpassed by any other passenger ship. The ship was constructed to complement the RMS Queen Elizabeth 2 (QE2) - the Cunard flagship from 1969 to 2004 - replacing it on the transatlantic route. The first RMS Queen Mary sailed the Atlantic from 1936 to 1967. She has to anchor in the Bay of Gibraltar due to her size!
The Queen Elizabeth 2 was considered the last of the great transatlantic ocean liners prior to the construction of the QM2, and, before she was refitted with a diesel power plant in 1986, she was the last oil-fired passenger steamship to cross the Atlantic in scheduled liner service. During her service as the Cunard flagship, the QE2 traveled the world, and now operates predominantly as a cruise ship sailing out of Southampton, England.
P&O's Oceana entered operation in May 2003, after participating in a renaming ceremony with sister ship Adonia, and presided over by Zara Phillips, the daughter of Princess Anne. At the time she was the largest vessel in the fleet, and the first to accommodate over 2000 passengers.
The Oriana entered service in April 1995 as the first cruise liner custom-built for the British cruise market. She is specifically designed and equipped to operate world voyages. She embodies the classic lines, comfort and ambience of traditional ocean liners. She was the fastest cruise ship built for 25 years, with an operating speed of 24 knots. Her high speed and technically advanced hull enable Oriana to operate the most far-reaching itineraries worldwide.
Technical Specs
| | |
| --- | --- |
| Design: | Stephen Perera |
| Illustration / Photography: | Simon Williams |
| Printer: | BDT International, Ireland |
| Process: | Offset Lithography |
| Colours: | 4 cols. |
| Stamp size: | 40.5 x 30mm |
| Issue date: | 2007-05-15 |
| Stamp Values: | 40p, 42p, 66p, 78p |
---