Cruise Ships II (2006)
Buy whole issue for
£21.34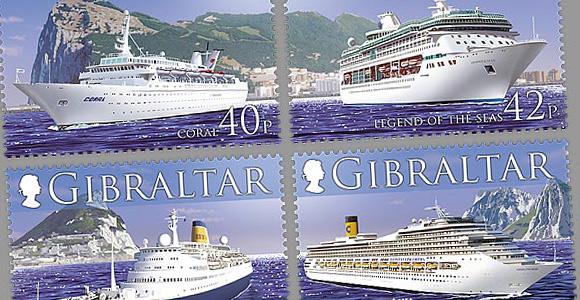 As a Cruise destination, Gibraltar has it all - location, facilities, unrivalled levels of service and an abundance of attractions - and its popularity is growing all the time.
With its prime location at the southern tip of Europe, guarding the gateway to the Mediterranean, it is an ideal port of call for cruise ships whose itineraries include the transit of the Straits of Gibraltar. All visitors to Gibraltar will be pleasantly surprised with the diverse range of attractions on offer in Gibraltar. Steeped in a history that has evolved from its strategic location at the southernmost tip of the Iberian Peninsula, where Europe meets Africa, visitors are all assured a breathtaking scenery, diverse wildlife and impressive architecture that capture the unique flavour of this Mediterranean City and its inhabitants.
A wide range of activities from rock touring, to sailing, diving, fishing, bird watching and shopping bring visitors back again and again. The four ships depicted on the stamps are the Coral, Legend of the Seas, Saga Ruby and Costa Concordia, all of which are prominent callers to the Rock during 2006.
Technical Specs
| | |
| --- | --- |
| Design: | Stephen Perera |
| Illustration / Photography: | Simon Williams |
| Printer: | Lowe-Martin, Canada |
| Process: | Offset Lithography |
| Colours: | 4 cols. |
| Stamp size: | 40 x 30.5mm |
| Issue date: | 2006-09-15 |
| Stamp Values: | 40p, 42p, 66p, 72p |
---