FIFA World Cup Winners
Buy whole issue for:
Ask for Availability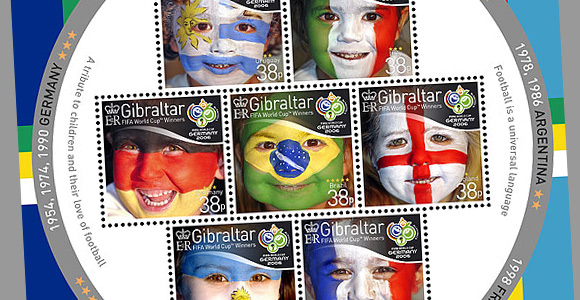 A group of visionary French football administrators, led in the 1920s by the innovative Jules Rimet, are credited with the original idea of bringing the world's strongest national football teams together to compete for the title of World Champions. The original gold trophy bore Jules Rimet's name and was contested three times in the 1930s, before the Second World War put a 12-year stop to the competition.
When it resumed, the FIFA World Cup™ rapidly advanced to its undisputed status as the greatest single sporting event of the modern world. Held since 1958 alternately in Europe and the Americas, the World Cup broke new ground with the Executive Committee's decision in May 1996 to select Korea and Japan as co-hosts for the 2002 edition.
Since 1930, the 16 tournaments have seen only seven different winners. Today, the FIFA World Cup™ holds the entire global public under its spell. An accumulated audience of over 37 billion people watched the France 98 tournament, including approximately 1.3 billion for the final alone, while over 2.7 million people
flocked to watch the 64 matches in the French stadia.
Through these stamps, Gibraltar celebrates the tournament and its seven winning nations since 1930. The innocence and positivity of children is perhaps the best symbol of a pure celebration of football and the omnipresent ritual of face-painting always adds 'colour' and fun to stadiums all over the world.
What better way to pay tribute thus than to feature the sport's most active and best ambassadors...children from all over the world expressing their joy and love for the game, faces painted, smiles on their faces and letting the world know who they support!
Technical Specs
| | |
| --- | --- |
| Design: | Stephen Perera |
| Illustration / Photography: | Stephen Perera |
| Printer: | BDT International, Ireland |
| Process: | Offset Lithography |
| Colours: | 4 cols. |
| Stamp size: | 31.75 x 31.75mm |
| Issue date: | 2006-05-04 |
| Stamp Values: | 38p x 7 |
---