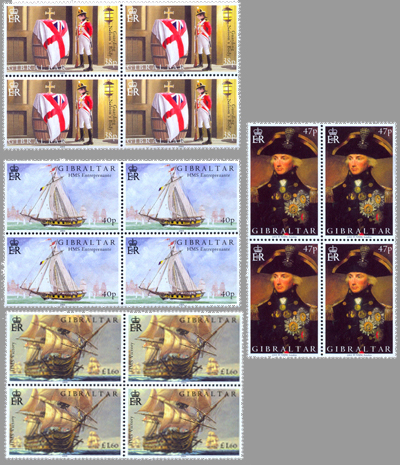 Nelson first visited Gibraltar in 1776 age 18, as a young midshipman serving on board HMS Worcester a third rate, 64-gun ship which was on convoy duty. Nelson went ashore with dispatches to be forwarded to the British Consul in Cadiz.
In June 1803 Nelson embarked on HMS Victory as Commander in Chief in the Mediterranean. The next time he stepped off her on to land was on 20th July 1805 at Gibraltar. During that time he had been either blockading or chasing the French and Spanish fleets. Nelson's connection with Gibraltar was not finished as it was at Rosia Bay, Gibraltar on the 3rd November 1805 that his body was brought ashore from HMS Victory and re-interred in Spirits of Salts before sailing back to Great Britain.
Extracts from the log book of Manxman Captain John Quilliam on board "Victory" 21st October, 1805
"At 4.15pm the Spanish Rear Admiral to windward struck to some of our ships which had tacked after them, observed one of the enemy's ships blow up and 14 sail standing towards Cadiz and 3 standing to the southward, partial firing occurred until 3.40 when a victory having been reported to Admiral Right Honble Lord Visc't Nelson KB, Commander in Chief died of his wounds."
Technical Specs
| | |
| --- | --- |
| Design: | John Batchelor |
| Illustration / Photography: | CASB Studio |
| Printer: | Cartor Security Printers, France |
| Process: | Offset Lithography |
| Colours: | 4 cols. |
| Stamp size: | 40 x 30mm |
| Issue date: | 2005-01-31 |
| Stamp Values: | 38p, 40p, 47p, £1.60 |
---