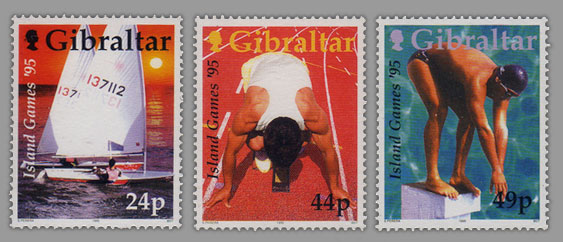 The International Island Games Association (IGA) is an organisation the sole purpose of which is to organise the Island Games, a friendly biennial athletic competition between teams from several European islands and other small territories. The IGA liaises with the member island associations and with sponsors of the games. It investigates whether islands wanting to join fit the membership criteria. Any further additions since Minorca joined in 2005 will now require changes to the constitution.
Gibraltar is the only member of the IGA that is not an island or group of islands as it is a peninsula of Iberia, sharing a land border with Spain.Anglesey, Hitra, and Prince Edward Island have bridge or tunnel connections to their mainland. Greenland is by far the largest island, and is bigger than all the rest combined.
The Island Games began in 1985 as the Inter-Island Games, as part of the Isle of Man International Year of Sport, and were intended to be a one-off sporting celebration only. Geoffrey Corlett, who became the first Games Director, not only contacted the islands surrounding the UK, but also encouraged the countries of Iceland and Malta, the territories of Faroe Islands, Greenland, Saint Helena and Channel Islands and others to participate. Initially, fifteen islands with 600 competitors and officials took part in seven sports, with the total cost of staging the Games being put at £70,000. The track and field events were held on an eight-lane grass track, a far cry from the current games, which now use a synthetic track in a stadium capable of holding 10,000 spectators.
So successful were the Games of 1985 that it was decided to hold a similar event two years later, with Guernsey hosting the Games in 1987. The Games have subsequently been held in the Faroe Islands, Aland, Isle of Wight, Gibraltar, Jersey, Gotland in 1999 (the first Games of NatWest offshore's sponsorship), Isle of Man, Guernsey, Shetland Is and Rhodes.
The number of Islands participating has grown substantially, and now 25 Islands are members of the International Island Games Association. (Wikipedia)
Technical Specs
| | |
| --- | --- |
| Design: | Stephen Perera |
| Illustration / Photography: | GPB Ltd |
| Printer: | BDT Security Printers |
| Process: | Offset Lithography |
| Colours: | Multicoloured |
| Stamp size: | 30 x 40mm |
| Issue date: | 1995-05-08 |
| Stamp Values: | 24p, 44p, 49p |
---