Ferrari 'Champions'
Buy whole issue for
£34.22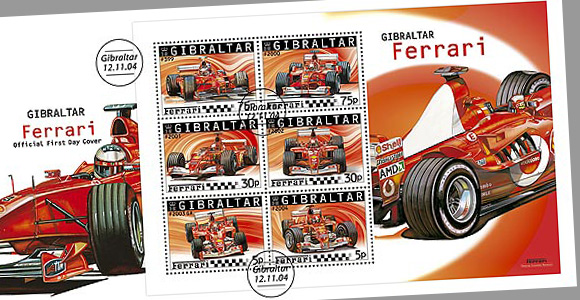 Ferrari symbolizes passion, style, and technology to many. It is the oldest surviving, the most well known, and arguably the most loved team in Grand Prix motor racing history.

Ferrari's founder, Enzo Ferrari, was born in 1898 in Modena, Italy. He claimed that when competing in Ravenna in 1923 Countess Paolina Baracca, the mother of Italy's World War I flying ace Francesco Baracca, asked him
to put his son's prancing horse emblem on his car for luck. Thus the legend was born. The 'Prancing Horse', or 'Cavallino Rampante' is one of the most well known and instantly recognisable symbols in global motorsport,
a symbol of style and speed to many.

This highly collectable issue, a 'Ferrari official licensed product', depicts the evolving design of the Ferrari Formula 1 car that has been driven to victory in Formaula One Grand Prix circuits around the world.
The issue comprises a Miniature Sheet containing 6 stamps and 6 individual Sheetlets each dynamically depicting the year's car design from 1999 through to 2004.

It is interesting to see through the stamps, how the car has developed taking on board advancements in technology and aerodynamics whilst adhering to FIA (Federation Internationale de l' Automobile) rules and
regulations.

The 2004 rules state cars must be no wider than 180cm. The length and height of the car are effectively governed by other specific parameters. For example, bodywork ahead of the rear wheel centre line must be a maximum of 140cm wide. Bodywork behind it must be no more than 100cm wide. Front and rear overhangs are limited to 120cm and 60cm respectively from the wheel centre lines. Thus, the Ferrari F2004 measures 454.5cm by 179.6cm by 95.9cm.
Technical Specs
| | |
| --- | --- |
| Design: | Stephen Perera |
| Illustration / Photography: | Bolaffi-Ferrari |
| Printer: | BDT International, Ireland |
| Process: | Offset Lithography |
| Colours: | 4 cols. |
| Stamp size: | 40 x 30mm |
| Issue date: | 2004-11-12 |
| Stamp Values: | 5p, 5p, 30p, 30p, 75p, 75p |
---