Gibraltar Island Games XVIII
Price First Day Cover (Low Values):
£4.50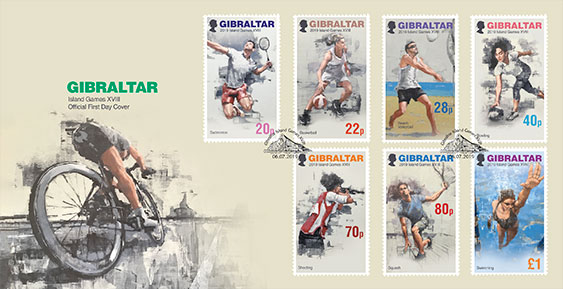 The Gibraltar 2019 NatWest International Island Games XVIII will be held from 6th to 12th July 2019.
Once every two years, thousands of athletes from across the globe — from Scandinavia to the Mediterranean, the North Atlantic to the Caribbean — come together to compete in the NatWest International Island Games.
The games started in 1985, as part of the Year of Sport. The Isle of Man set in motion a plan to bring together athletes from small islands across the world to take part in a new sporting festival — the 'Inter-Island Games'. After a week of events in eight different sports the festival was deemed such a success it was agreed to continue it every other year, with the second Games to be held in Guernsey in 1987.
Over the years the Games travelled to the Faroe Islands, Áland, the Isle of Wight, Gibraltar, Jersey, Isle of Man, Guernsey, Shetlands, Rhodes, Aland, Isle of Wight, Bermuda, Jersey and Gotland. Gibraltar originally held the games in 1995 dubbed "the Sunshine games".
The 2019 games were awarded to Gibraltar in Jersey in 2015. 14 sports will be contested with 193 events. Over 2,200 athletes and officials are expected to attend.
The Opening Ceremony will take place on Saturday 6th July. There then follows 6 full days of events with the closing ceremony on Friday 12th July. Athletes will be housed in hotels and a games village in Europa. Many magnificent sporting venues are being built for the games, an athletics track and swimming pool in Lathbury, an indoor hall for badminton and squash at Europa and new shooting venues for rifle and clay target shooting.
Gibraltar looks forward to welcoming all the participants and supporters to the Rock.
Technical Specs
| | |
| --- | --- |
| Design: | Stephen Perera |
| Illustration / Photography: | Leslie Gaduzo |
| Printer: | Cartor Security Printers |
| Process: | Offset Lithography |
| Colours: | 4 colours |
| Stamp size: | 50 x 30mm |
| Issue date: | 2019-04-25 |
| Stamp Values: | 14p, 20p, 22p, 28p, 40p, 50p, 54p, 64p, 70p, 80p, |
---