Gibraltar Postal Anniversaries
Buy whole issue for
£14.15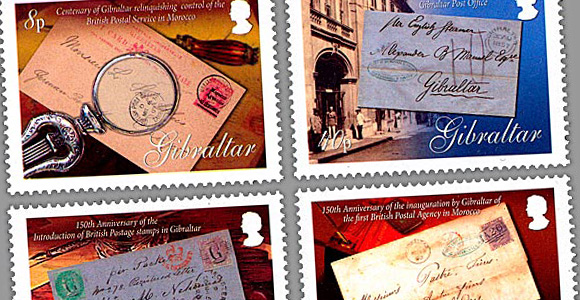 The Gibraltar Post Office was created on 1 st January 1857, when the Packet Agency and Overland Post Office were amalgamated under the control of the Postmaster General of Great Britain and Ireland. This year therefore marks the 150th anniversary of this event. At the time of the creation of the Gibraltar Post Office, the Packet Agency had premises at Turnbull's Lane. The Overland Post Office operated from the office of the Colonial Secretary in Secretary's Lane. Edmund Creswell (Postmaster, 1831), secured funding from London for building a new post office for Gibraltar.
Work on the building commenced straight away. It was inaugurated on 1 st September 1858. This is the Post Office that is still in use today, at 104 Main Street. It is a daily reminder to us of the events of 150 years ago, when the Gibraltar Post Office was created.
The anniversaries are depicted by the following stamps:
On 1 January 1907, the Gibraltar Post Office ceased to have responsibility for the British postal service in Morocco, but Gibraltar stamps and postal stationery remained valid until 28 February 1907. This postcard from Fez was used on the last day of its validity.
On 1 January 1857, the Gibraltar Post Office was created through the amalgamation of the maritime Packet Agency and the Overland Post Office, to handle all Gibraltar's mail. The P.O. initially used the last Gibraltar datestamp of the Packet Agency, shown here.
On 3 September 1857, British postage stamps were first placed on sale at the Gibraltar Post Office, to prepay letters. They were cancelled with a distinctive obliterator consisting of the letter "G" in a barred oval.
On 1 April 1857, the first British Postal Agency in Morocco was established in Tangier, and placed under Gibraltar's control. The envelope shown is the earliest known letter from Morocco handled by the British Postal Agency and sent via Gibraltar.

Technical Specs
| | |
| --- | --- |
| Design: | Anselmo Torres |
| Illustration / Photography: | Anselmo Torres |
| Printer: | BDT International, Ireland |
| Process: | Offset Lithography |
| Colours: | 4 cols. |
| Stamp size: | 40 x 30mm |
| Issue date: | 2007-09-26 |
| Stamp Values: | 8p. 40p. 42p, £ 1 |
---