Queen Mother's 100th Birthday
Buy whole issue for:
Ask for Availability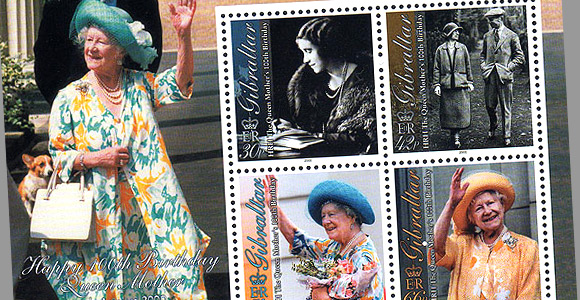 This issue commemorates the Queen Mother's 100th birthday depicting various stages of her life
Elizabeth Angela Marguerite Bowes-Lyon (4 August 1900 – 30 March 2002) was the Queen consort of King George VI of the United Kingdom and the British Dominions from 1936 until his death in 1952. After her husband's death, she was known as Queen Elizabeth The Queen Mother, to avoid confusion with her daughter, Queen Elizabeth II. She was the last Queen consort of Ireland and Empress consort of India.
Born into a family of Scottish nobility (her father inherited the Earldom of Strathmore and Kinghorne in 1904), she came to prominence in 1923 when she married Albert, Duke of York, the second son of King George V and Queen Mary. As Duchess of York, she – along with her husband and their two daughters Elizabeth and Margaret – embodied traditional ideas of family and public service. She undertook a variety of public engagements, and became known as the "Smiling Duchess" because of her consistent public expression.
In 1936, her husband unexpectedly became King when her brother-in-law, Edward VIII, abdicated in order to marry the American divorcée Wallis Simpson. As Queen consort, Elizabeth accompanied her husband on diplomatic tours to France and North America in the run-up to World War II. During the war, her seemingly indomitable spirit provided moral support to the British public, and in recognition of her role as a propaganda tool, Adolf Hitler described her as "the most dangerous woman in Europe". After the war, her husband's health deteriorated and she was widowed at the age of 51 in 1952.
On the death of her mother-in-law Queen Mary in 1953, with her brother-in-law living abroad and her elder daughter Queen at the age of 25, Elizabeth became the senior member of the Royal Family and assumed a position as family matriarch. In her later years, she was a consistently popular member of the family, when other members were suffering from low levels of public approval. She continued an active public life until just a few months before her death at the age of 101, seven weeks after the death of her younger daughter, Princess Margaret. (WIKIPEDIA)
Technical Specs
| | |
| --- | --- |
| Design: | Stephen Perera |
| Illustration / Photography: | GPBL |
| Printer: | Cartor security printers |
| Process: | Offset Lithography |
| Colours: | Multicoloured |
| Stamp size: | Set: 30 x 30mm M/S: 115 x 75mm |
| Issue date: | 2000-08-04 |
| Stamp Values: | 30p, 42p, 54p, 66p |
---