RAF Squadrons IV
Buy whole issue for
£26.28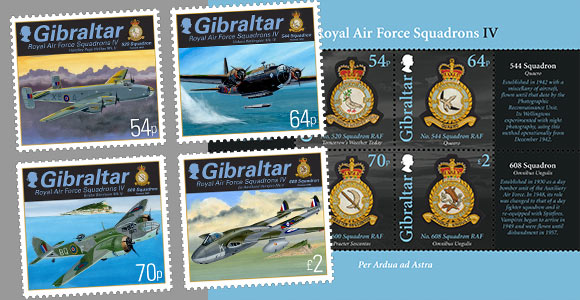 RAF Squadron 520 'Tomorrow's weather today'
No.520 Squadron was formed at Gibraltar on 20 September 1943 from No.1402 Flight for meteorlogical duties. Initially equipped with Hudsons and Gladiators, it changed this combination to Halifaxes and Spitfires early in 1944. Weather flights were made out into the Adlantic and in September 1944 the squadron took over the Martinets of No.1500 (BAT) Flight for target-towing. Soon after the end of the war, No.520 was given an air-sea rescue role in addition to its meteorlogical duties and remained in Gibraltar until disbanded on 25 April 1946.
RAF Squadron 544 'Quaero'
No.544 Squadron was formed at Benson on 19 October 1942 with a miscellany of aircraft, flown until that date by the Photographic Reconnaissance Unit. Its Spitfires were detached to Gibraltar, while Wellingtons experimented with night photography, using this method operationally from December 1942. In March 1943, Mosquitoes were received and became the squadron's sole type when B Flight at Gibraltar was transferred to No.541 Squadron. For the rest of the war, it flew photographic reconnaissance missions over Europe, and in February 1945 it operated a courier service for the Yalta conference by flying the first leg from the UK to Italy. In June 1945 survey flights began and continued until the squadron was disbanded on 13 October 1945.
RAF Squadron 600 'Praeter sescentos'
No.600 Squadron was formed at Northolt on 14 October 1925 as a unit of the Auxiliary Air Force. Equipped with D.H.9As and Avro 504Ns, it was a day bomber squadron until 1934, having received Waptis in August 1929. These were replaced by Harts in January 1935 pending the arrival of Demon fighters, No.600 having been designated a fighter squadron in July 1934. In April 1937 conversion to Demons was complete and in January 1939 they were replaced by Blenheims. On the outbreak of war day and night patrols were flown, experiments with airbourne radar beginning in December 1939. When the Germans invaded Holland, the squadron flew patrols over the Low Countries but in view of the inadequacy of Blenheims for daylight operations, No.600 was allocated to night defence only a few days later. In September 1940 the first Beaufighter was received, conversion being completed early in 1941. In October 1940 the squadron moved to Yorkshire and in March 1941 to south-west England, where it remained until September 1942. In November 1942, No.600 moved to North Africa to provide night cover for Allied bases and shipping. It was transferred to Malta in June 1943, and in September, to Italy where it spent the rest of the war on night defence and intruder missions. Re-equipment with Mosquitoes began in January 1945 and on 21 August 1945 the squadron disbanded.
On 10 May 1946, No.600 reformed at Biggin Hill, as a day fighter squadron of the Auxiliary Air Force with Spitfires. It began to recruit during June and received its first operational aircraft in October. After receiving a Vampire in October 1949 for jet conversion, it was allotted Meteors in March 1950 and flew these until the Royal Auxiliary Air Force disbanded on 10 March 1957.
RAF Squadron 608 'Omnibus ungulis'
No 608 Squadron was formed on 17 March 1930 at Thornaby as a day bomber unit of the Auxiliary Air Force. Waptis began to arrive in June 1930 and were replaced by Demons from January 1937, the squadron being redesignated a fighter unit on 16 January 1937. On 20 March 1939, No.608 became a general reconnaissance squadron and re-equipped with Ansons. These began to be replaced by Bothas after the outbreak of war and both types flew anti-submarine patrols from Thornaby. Bothas were found to be unsuitable and the squadron reverted to Ansons until March 1941, when Blenheims were received. These were soon replaced by Hudsons and attacks on enemy shipping began. In January 1942, No.608 moved to the north of Scotland for attacks off the Norwegian coast, but in October left for North Africa. By the end of 1942, the squadron was flying anti-submarine patrols over the Western Mediterranean from Algeria, a move being made to Sicily in September for a month, before moving on to Italy where the squadron disbanded on 31 July 1944.
On 1 August 1944, No.608 reformed at Downham Market as a Mosquito squadron in No.8 Group and for the rest of the war carried out night attacks on Germany. On 24 August 1945, the squadron was disbanded. It was reformed on 10 May 1946 as an Auxiliary Air Force light bomber unit at Thornaby, but did not receive any operational bombers before becoming a night fighter unit with the arrival of Mosquito NF.30's in July 1947. In May 1948, its role was changed to that of a day fighter squadron and it re-equipped with Spitfires. Vampires began to arrive in December 1949 and were flown until disbandment on 10 March 1957.
Technical Specs
| | |
| --- | --- |
| Design: | Stephen Perera |
| Illustration / Photography: | John Batchelor MBE |
| Printer: | BDT Security Printers |
| Process: | Offset lithography |
| Colours: | 4 cols. |
| Stamp size: | 40 x 36mm and 102 x 128mm |
| Issue date: | 2015-08-31 |
| Stamp Values: | 54p; 64p; 70p; £2 |
---